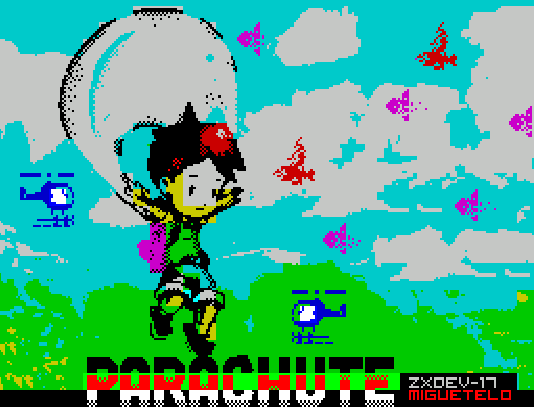 Parachute
PARACHUTE
Free conversion based on the Atari classic "Parachute".
Our mission is to reach the base avoiding all the dangers that lie in wait for us: helicopters, birds, antiaircraft batteries, explosive balloons, guardians, traps, etc.
You will be thrown in different scenarios and with the sole help of your parachute you will have to arrive safely at the end of your mission.
You have Fuel, which helps you descend faster, but be careful, the fuel runs out, you must manage it wisely. In some places you can refuel.
Luck! You will need it.
Controls:
Sinclair Joystick
Kempston Joystick
Keyboard:
O ­ Left
P ­ Right
Q ­ Ascend
A ­ Descend
Credits: Miguel Ángel Tejedor (aka Miguetelo)
Realized during December of 2017 and January of 2018 for the ZXDEV2017.
Made with AGD.
Thanks to: David Saphier for AGDmusicizerII. To Jonathan Cauldwell.
System:
ZX Spectrum 48K (with sound).
ZX Spectrum 128K (with Music).
Install instructions
You can play it on original ZX Spectrum machines (48k and 128k) or with an emulator.

Download